In 2009 I set out with a mission: Take a picture every day. My goal was to document my year, one day at a time, and hopefully capture both good pictures and great memories along the way. I also hoped that it would force me to branch out to take more interesting pictures, and along the way improve my photography skills.
I came very close to getting a snapshot in all 365 days of the year. I missed five days along the way, but I'll consider 360 out of 365 to be a success.
I also wanted to take a very analytical approach to my photography, so I attempted to tag as much metadata about each day's picture as possible to enable both active sorting and data analysis of the pictures.  Everything from location to aperture to category to color to distance traveled between photos.
You of course can view them in reverse chronological order, but here are some of my favorite tags and collections of the photos from the year:
I've also added tags for cities, states, aperture, and more!  Visit the archives page to see all of the tags that I've attached to the pictures.
I've spent some time doing analysis of the metadata associated with the photos.
Distances
2009 was a year of a lot of travel.  I calculated the as-the-crow-flies distance between picture locations as the year went on, and in 2009 I traveled 40,266 miles.  Yikes!
40,266 is enough to go from Philadelphia, PA to Perth, Australia, back to Philadelphia, back to Perth, and then make a final stop in Honolulu, HI.  Now that would be a trip!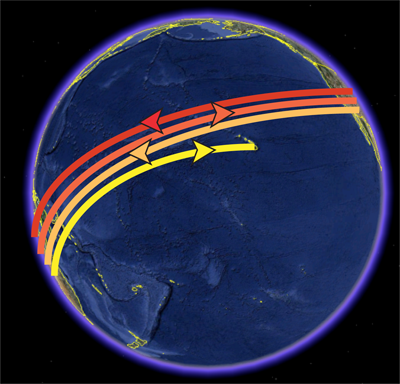 What I was interested in seeing was how the miles accumulated across the year.  I plotted daily miles traveled on a weekly average (green) and monthly average (purple) on the primary axis, against the daily accumulation of miles across the year (blue) on the secondary axis.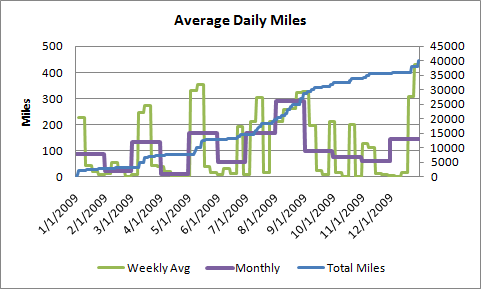 You can see the clear relationship that when I average more miles on a daily basis, the cumulative miles rises faster.  What's interesting to note though is whether that distance came in one shot for the month because of a long trip (like in March when I went to Colorado or May when I went to Nevada), or if it came from many frequent trips across shorter distances (like in July and August when I was all over the country for various reasons).
Distance Across Months:
I also tagged each date with its day of the month, and calculated the average miles traveled on that day.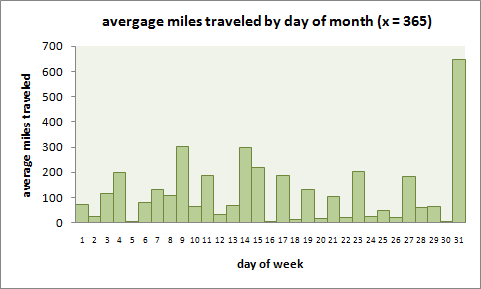 Average miles traveled on the 31st outweighs all days, and that is influenced by there only being seven days, and I had two major cross country trips where the miles counted on the 31st.  It's also interesting to see what types of pictures were taken on each day of the month.
Average Distance Across Days:
Locations – States
While I did do a lot of travel this past year, for the most part my home base was in Pennsylvania.
Here are two different visualizations of what state (or Canadian province) I was in when I took the pictures. The first is a simple bar chart sorted by frequency.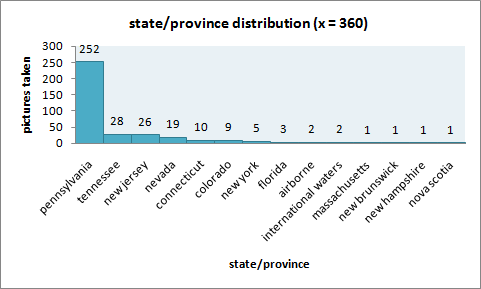 The second visualization puts that same data on a map.  I was able to build this map courtesy of the Google Charts API and by building some Javascript to display it, although I excluded the Canadian provinces, the "International Waters" designation, and the two times I took pictures while airborne.
Since I took so many pictures in Pennsylvania, I decided to remove it from the chart, and just display the other states/provinces to better highlight places I visited more often.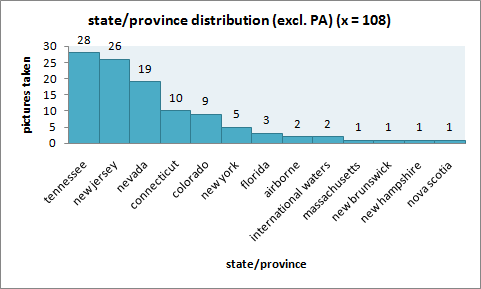 And again, here's that data displayed on a Google map.
When I wasn't in my home state, I spent a lot of time in Tennessee (work) and in New Jersey and Nevada (family).
States:
Location – Cities
When it comes to the particular cities I visited, plotting out frequency on a bar chart doesn't make much sense.  So, I decided that plotting them on a Google Map would be the way to go, and to group the frequency by color using the native Google Maps icons.
Here's a map of the US. You can zoom in if you want to pick out particular locations.
I've also included a second map zoomed in on the Philadelphia area.
You can also view this map in a larger form or in another tab.
Cities:
Home vs. Not Home
During the year, I would bring my camera with me when I went places.  Some days though, I either stayed at home, or it was an uneventful day, so I took the picture at home.  In September, I moved from Philadelphia, PA to King of Prussia, PA, so I've been able to tag pictures I took at home, and the frequencies (overall and by location) are mapped out in the 100% bar charts below.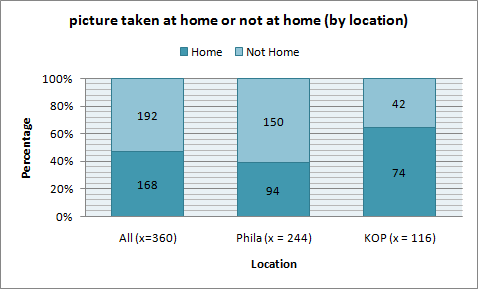 I've tagged the photos that I took at home with the address of where I lived.
When I look at the numbers, the frequencies make sense.  When I lived in Philadelphia, I was traveling more for work, plus I had easy access to the city to get out of my apartment to take a picture away from home.  When I moved to King of Prussia, I was traveling less and going out less often.
Camera Model
My Canon Rebel XT was was my primary choice for taking pictures.  However, sometimes I would take a picture with whatever camera was available to me.  Here, the sample size is 360 since I know what camera I took each day's picture with.  Days when I didn't take a picture weren't counted.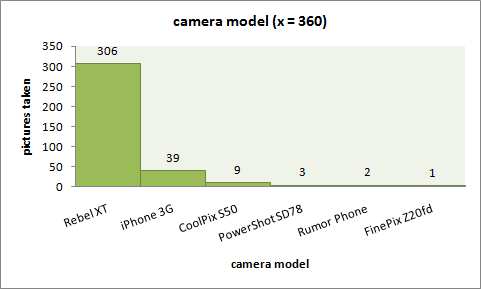 Models:
Colors
For colors, I took a look at each day's picture and assigned it a color (or sometimes multiple colors if it was appropriate).  I tagged 728 colors across all the photos.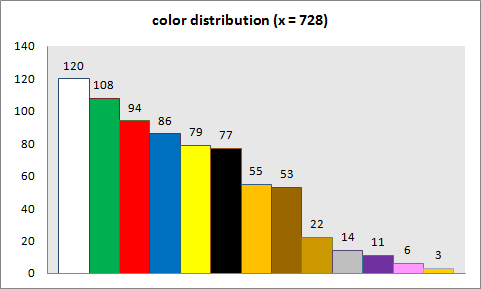 Colors:
Aperture
Here's a graph with information about the frequency of particular f/stop settings for the pictures.  I had f/stop information for each picture, except for the two pictures I took with my Rumor Phone.  If anyone happens to know what the aperture of an LG Rumor phone camera is, I'll update this graph.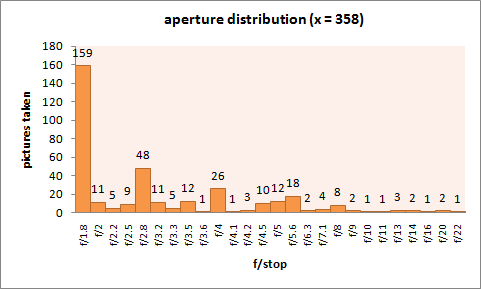 Clearly I had a bias for the f/1.8 shots this year. I have two lenses for my Rebel XT, a EF 50mm f/1.8 II and a EFS 18-55mm f/3.5-5.6 II.  I preferred the f/1.8 lens in most cases, and I cranked the f/stop down as far as I could.
I find the bumps to be interesting.  There's a bump at f/2.8, and 39 out of those 48 pictures were the iPhone, where I didn't have a choice of aperture.  At f/4, it looks like about half those pictures are with flashes, so my assumption is that f/4 is one of the defaults of the camera when it decides to take a picture with flash.  The last bump is at f/5.6, and I am guessing that when I set the camera to auto-assign aperture, it goes to f/5.6.  One interesting observation is that out of the 12 sunset pictures I have, 5 of them are in f/5.6. Coincidence?  Actually, I think it's more because when I take sunset pictures, I tended to let the camera self-meter itself.
Aperture:
Focal Length
When I used the 18mm – 55mm lens on the Rebel XT, it apparently recorded what the focal length was for when I took the picture.  I've isolated just the photos taken with that lens, and mapped out the focal lengths.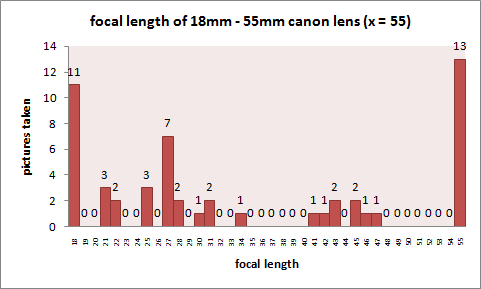 A few observations here: I obviously took a lot of pictures where I either zoomed in really far to the max, or when the opposite direction and zoomed out to the max, as evidenced by the large numbers of pictures at both extremes.  However, I found it interesting that I had seven pictures at 27mm.  I didn't tag the pictures with all the focal lengths, however I did tag the 27mm ones just because there were so many of them.
Animals
I took a lot of pictures of animals this year (45 to be exact).  I graphed out pictures of cats vs. dogs vs. other animals.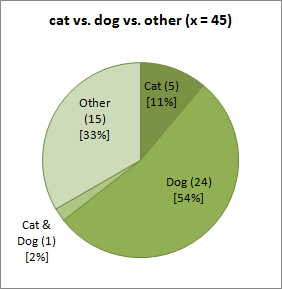 Food
Since food is such a big part of my life, I tended to take a lot of pictures of it.  So many, in fact, that food pictures accounted for 23% of the pictures I took this year.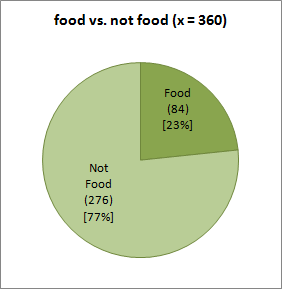 Now What?
I attempted to continue daily picture taking into 2010, but I missed a handful of days of January, and in mid February I decided to not pursue the project into 2010.
If inspiration strikes me, I'll continue to add more metadata and create other interesting visualizations of the data.  Perhaps you can leave some ideas in the comments?
This project was a lot of fun for me, and I highly encourage others to start their own Project 365.
Thanks
There are a number of people/websites I'd like to acknowledge for their direct and indirect help with the project.
Kristine, for putting up with my obsessive quest to get a picture every day
Jerricka, for forwarding me this website which gave me the original inspiration
My friends and family, for posing in pictures and letting me take pictures of their stuff
WordPress, for creating an awesome customizable blogging software that I used for this site
lesterchen.net, for creating a number of great WordPress plugins that I highly recommend
plaintxt.org, for their minimalistic WordPress theme that I based the site off of
herewithme.fr, for their Simple Tags plugin which allowed me to mass-edit the tags
Google, for great tools like Google Earth, Google Maps, and Google Charts