1. Get out a map. Pick a place that you've never been before.
2. Do research on the place that you've picked.
3. Plan your travel to get there. Take an unconventional route.
4. Book a hostel ahead of time so that you have a place to sleep and have a map of the city.
5. Talk to everyone you can and get their opinion on what you need to do in while in town.
6. Make friends with the local people you meet.
7. Experience the nightlife.
8. Do something touristy.
9. Do something off the beaten path.
10. Go somewhere that you're not supposed to be.
11. Eat something that your place is known for.
12. Try not to make enemies with a local resident. If you do, get a good story out of it.
Here's how I attempted to accomplish the things listed in the guide. As always, pictures are in the Gallery. Unfortunately, it was cloud-cover for most of the weekend, so I was not happy with the quality of the pictures.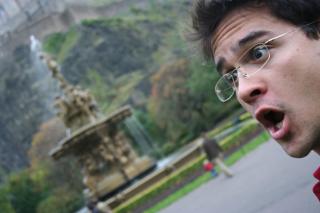 1. (Get out a map. Pick a place that you've never been before.) Looking at cities on Google Maps, I picked Edinburgh with no particular reason in mind, expect for the vague idea of playing golf in Scotland.
2. (Do research on the place that you've picked.) My friend Jess had studied at the University of St. Andrews and said it was a cool place to go. Most of my "research" was done from talking to the people from the UK that I work with, by reading the Rick Steves website, and by clicking around Wikipedia.
3. (Plan your travel to get there. Take an unconventional route.) To get to Edinburgh, I took the Tube into Central London, a regional rail train to Luton, a bus to Luton Airport, a plane to Edinburgh, and a bus into Edinburgh. This doesn't really fulfill this standard because it wasn't THAT unconventional, but I flew from a different airport than the one closest to my flat because it was a boatload cheaper. In the terminal of the airport, I met a very nice Jamaican woman who was born and raised in England. She was a fashion designer, and her specialty was shoes. We had the same flight, and she told me gave me a list of things that I needed to do while I was there. On my return flight, I flew into a different airport than the one I departed from, and plotted a different route back to my flat.
4. (Book a hostel ahead of time so that you have a place to sleep and have a map of the city.) I used hostelworld and I HIGHLY recommend it for anyone who might be going abroad and is looking for cheap places to stay. I found Budget Backpackers, a very funky hostel with bright colors, clean rooms, and a very friendly staff. I did not have a map of Edinburgh, only a vague paragraph of how to find the hostel. If I had printed a map from home, it would have been much easier to navigate the streets instead of taking wrong turns and walking down the wrong streets. In addition, Edinburgh is VERY hilly, so when I made a wrong turn going downhill, I had to trek back uphill. In short, take a map.
5, 6, and 7, (Talk to everyone you can and get their opinion on what you need to do in while in town/ Make friends with the local people you meet/ Experience the nightlife.) I need to combine these three together to make a sequential story. I didn't arrive at my hostel until 11:30pm. I asked the staff about where to go on 11:30pm on a Friday night. They directed me to a bar/club down the road called Frankenstein. As you might have imagined, it was a Frankenstein-themed bar, complete with black and green balloons, old horror movie posters, and clips from old black-and-white Frankenstein movies looping on the video screens. There was loud rock/dance music and a good number of younger people, including a segment near closing time when the female bartenders get on the bar and shake a tambourine to Robbie Williams' "Let Me Entertain You" while a giant Frankenstein falls from the ceiling.
While I was at the bar, I made a "hate friend". (Sidebar: I heard a comedian once do a routine about making "hate friends". The concept is that you bond with someone because a third person is being an idiot. One example is that you're second in line at a checkout, and the person in front of you takes out a bag of pennies and starts counting them to pay for their groceries. You turn to the person behind and make a gesture saying "WHAT is this guy doing?!" When the person behind you silently nods their head in agreement, congratulations, you have just made yourself a "hate friend".) I made my new hate friend when the bartender kept ignoring us and serving the attractive ladies down at the other end. Not that I could blame him, but I was thirsty. I made a comment about the bartender to the guy standing next to me, and he agreed. Bam, new hate friend. I asked him about fun stuff to do in Edinburgh, and so him and his newlywed wife of three weeks gave me more things to my list of things that I needed to accomplish both in Edinburgh and in London. We hung out at Frankenstein until 1am when they closed, and the couple invited me to come along with them to Espionage.
Espionage is a nightclub down the road from Frankenstein. As I said before, Edinburgh is very hilly. You enter into Espionage on the top floor, but because the whole street is built into a hill, the club has four floors, each going down another level, each with its own atmosphere. The second floor was a chill lounge area and the bottom level was a rave-type party with crazy flashing lights and huge video screens playing 80s and 90s rock music videos. I met some of their friends and listened to Welcome to the Jungle, Basket Case, and Don't Stop Believin'.
While at Espionage, I found a list carved in the wall of a bathroom stall:
Things that are awesome:
pie
bears
Indiana Jones
triangles
groins
We left the club at 2:30am and parted ways. At that point, I was not tired yet, so I started roaming the streets near my hostel and was giving high-fives to everyone. One of the groups I met were a group of four girls who were all from the area. I started talking to them about America and about where I bought my green shirt from. A random group of guys from Ireland also came up to us, and I partied with them all until 5am.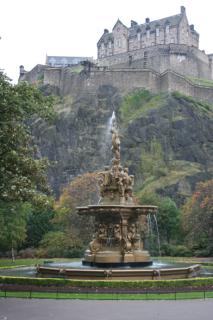 The next night I looked for a pub that was showing the France vs. England Rugby World Cup game, but the first few places I looked were only showing the Ireland vs. Germany soccer match. I ended up back at Frankenstein and met a guy who had a placed a 20-1 bet on England winning the World Cup. Needless to say, he was very excited when England won.
8. (Do something touristy.) I went to Edinburgh Castle. According to Wikipedia, "Edinburgh Castle is an ancient fortress which, from its position atop Castle Rock, dominates the sky-line of the city of Edinburgh. The Castle stands upon the basalt plug of an extinct volcano which is estimated to have risen some 340 million years ago during the lower Carboniferous age." There were amazing views of both the city below and the surrounding countryside. Highlights of the castle included the Crowned Jewels of Scotland, The Scottish National War Memorial, and an exhibition of kilts throughout the years.
The castle also plays host to an event called the Edinburgh Military Tattoo, which is a yearly month-long show which hosts the military drill teams from a number of different nations (including the good ol' USA). It takes place every year in August so I didn't see it, but the gift shop has a looping DVD of last year's show, and it looked incredible. I think I've added a new life goal to my list.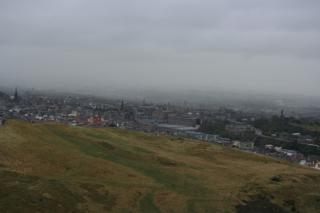 The other very touristy thing that I did was climb to the top of Arthur's Seat. "Arthur's Seat is the main peak of the group of hills which form most of Holyrood Park, a remarkably wild piece of highland landscape in the centre of the city of Edinburgh, about a mile to the east of Edinburgh Castle. The hill rises above the city to a height of 251 m (823 feet), provides excellent panoramic views of the city, is quite easy to climb, and is a popular walk." I would disagree with the "easy to climb" part, but that's because I'm fat and out of shape. I got up early on Saturday morning and trekked down from my hostel to the bottom of the hill. Again, I didn't have a map, so I picked a random path that looked like it was going up and I started walking. I was climbing higher and higher, when I suddenly turned a corner and discovered that the path I was on was now going down. I apparently picked the wrong path to start out on, and took a grand tour up and down the outside ring of the hill. Now that I was back at the bottom, but on the opposite site of the hill. I saw the ACTUAL path that I was supposed to take, and began the climb up a zig-zagging path. I made it to what I hoped would be the top, and then…
Oh crap, more hill. The angle that I was on was very deceiving and when I reached the top, it revealed a gorgeous view of the city and one more small mound to climb to reach the true top of the seat. I finally reached the top and took the required celebratory pictures and listened to Third Eye Blind's "Motorcycle Drive-By". I felt very proud of accomplishing the climb and was wallowing in self-awesomeness when I saw a kid who couldn't have been more than five come trekking up to the summit with his family. Oh well, I still thought what I did was cool. I sat up there for about 45 minutes and watched as some clouds started to roll in, engulfing the hill. It started to rain, and I started the climb down.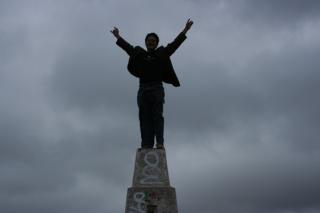 9. (Do something off the beaten path.) Number 9 comes into play here on my trip back down the hill. I took a wrong turn somewhere near the top and started to climb down. At this point, I looked down and realized that I really wasn't on a path but was instead on a rather steep rock face. I looked back up and realized that there was no way back up, so the only way was down. Wearing my trusty tweed blazer and my Stouffer College House bag, I called upon my rock climbing skills I learned in Adventure Bound back at Jackson Memorial High School and slowly made my way down the rocks. It was not at all graceful, and at one point a group of tourists down below all had their cameras pointed up at me as I slowly made my decent. Good times for everyone involved. By the time I reached the bottom, I was soaked, but I made friends with a goose swan I found at the bottom of the hill.
My second off-the-beaten path adventure was hopping on a bus, traveling south of the city, getting off, and walking until I found a golf course. Granted, I was in Scotland, so golf wasn't hard to find. The placed I stumbled upon (Hermitage) was a twelve-hole course in a green valley in between two bigger hills, and £15 ($30) got me all-day access to the course, club rentals, tees, and balls. I played my best (and only) round of 12 ever. I made par twice (my first two times ever making par) but on the 12th hole I scored a 12. However, I didn't care too much, because I was still playing golf in the middle of the birthplace of the sport. Life was good.
10. (Go somewhere that you're not supposed to be.) I didn't do a very good job fulfilling this one, but I did manage to work my way into a University of Edinburgh student union party where they converted the basement into a crazy night club and the library into a bar. A message to the University of Pennsylvania: You're "on-notice" for converting Houston Hall from a student union into a catering facility to host weddings and bar mitzvahs.
11. (Eat something that your place is known for.) Edinburgh always smelled like food. Sometimes the city smelled like sugar, but most of the time the city smelled like pulled pork. Edinburgh apparently has a large Italian immigrant population, so of course I had to sample the cuisine. I found Vittoria, a place close to my hostel. The decor had a very funky red squares theme and they played Italian pop music over the speakers. I ordered asparagus chicken in a white sauce with sautéed vegetables. In true UK fashion, the default side dish was "chips" (french fries). The chicken was very tender and tasty, and the white sauce was a great accompaniment to both the vegetables and the potatoes. I topped off the meal with two scoops of ice cream, mint-chip and mango-passion fruit. The mint-chip was spot-on, but the mango-passion fruit was too much passion fruit, not enough mango.
12. (Try not to make enemies with a local resident. If you do, get a good story out of it.) I did indeed get a good story out of it, but I will save it and tell it at parties and fun social events so that I can properly re-enact all of the appropriate events that took place.
And that my friends, was my weekend in Edinburgh. Pictures are in the Gallery.