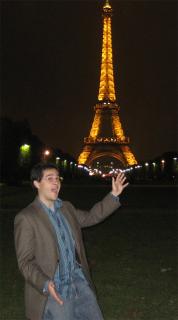 Paris.
The Rundown:
Charles de Gaulle Airport, Oops Hostel, Le Boulanger de Monge, Notre Dame, the Louvre, Deux Magots, Je The Me, Eiffel Tower, Starcooker
As always, more pictures in the Gallery.
The Long Version (with my 12 Pillars of Travel that I created when writing about Scotland):
1. (Get out a map. Pick a place that you've never been before.) Paris. Check.
2. (Do research on the place that you've picked.) I was armed with a Rick Steves' book about Paris (thanks Amanda), a French phrasebook (thanks Kristine), and eight semesters of French.
3. (Plan your travel to get there. Take an unconventional route.) Since there's a body of water separating the UK from France, I had a few options for travel. Chunnel train? Too pricy. Ferry? Too slow. Swim? Too out-of-shape. Airplane? Decent price, decent travel time, voila! It's not exactly unconventional, but given the other alternatives, it was the option I went with. I arrived at Charles de Gaulle Airport, by far the most beautiful airport I've ever been in. High arched glass ceilings, intricate lattice structure holding it all together, and Orangina-a-plenty. It was also where the cover art for U2's All That You Can't Leave Behind album was taken.
4. (Book a hostel ahead of time so that you have a place to sleep and have a map of the city.) Booked the hostel, forgot the map. Fortunately, I remembered the road the hostel was on, and there was a Metro stop with that name. I stayed at Oops Hostel, and all in all, a pretty good hostel. It's located in the 13th Arrondissement in the southeast corner of the city and had just recently opened. (Think of arrondissements as zip codes within a city. Paris has 20 of them.) The staff was very friendly (and bi-lingual), and the facilities were all new and shiny. Negative points on the lack of lockers in the room and the fact that anyone in the hostel could have taken anyone else's bag in the baggage room. Positive points for the awesome croissants.
5. (Talk to everyone you can and get their opinion on what you need to do in while in town.)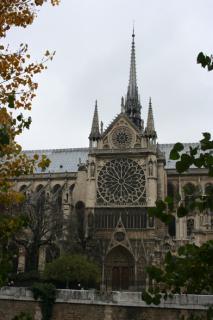 It was my first excursion into a country where English wasn't the native tongue. It was time to put eight semesters of French to the test.
Unfortunately, I failed. Fortunately, most of the people I interacted with spoke English as a second language.
For the most part, I did fine.
"Bonjour madame, je voudrais un billet pour la ."
"Hello ma'am, I would like a ticket for the third level." – Referring to the Eiffel Tower
"Bonjour monsieur, je voudrais une baguette."
"Hello sir, I would like a baguette."
"Bon soir madame, je voudrais cinq billet pour le métro."
"Good evening ma'am, I would like five tickets for the Metro."
"Bon soir madame, où sont les toilettes?"
"Good evening ma'am, where are the toilets?"
Most of my conversations in French involved buying tickets for things, eating food, and finding out where the bathrooms were.
6. (Make friends with the local people you meet.) and 7. (Experience the nightlife.)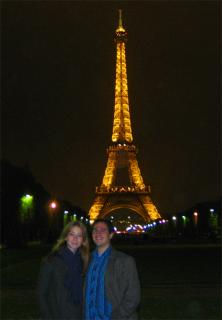 I'd like to start out by thanking Zeynep for being an awesome hostess and tour guide. She went to Penn with me and is now studying in Paris, and I met some of her friends (both Parisians and people from around Europe, so I guess it counts as "local"). Most of my nightlife activities all revolved around food and is covered in #11.
Paris is known as the city of lights, so at around midnight on Saturday I trekked down to the Eiffel Tower. The structure looks cool during the day, but at night the whole thing is lit up and at the top of every hour there's a "light show", which basically means that thousands of pulsating lights on the tower blink on and off for about 10 minutes.
At the Eiffel Tower we were having a problem with trying to get a good picture. If we used flash the tower was too dark, and if we didn't use flash you couldn't see us in the foreground. Canon PowerShots have special settings for different situations, which is where we discovered "Night Snapshot". The icon for Night Snapshot? A person standing in front of the Eiffel Tower. We figured if THIS didn't work we'd have to throw the camera out and sue Canon for false iconiness. We started calling it "Eiffel Tower Mode", and much to our delight, it worked and the pictures were fantastic.
8. (Do something touristy.)
Notre Dame – Beautiful church. I tried to find the entrance to climb to the top, but for the life of me, I couldn't find it (it's apparently on the left side if you're facing the entrance in case you ever go).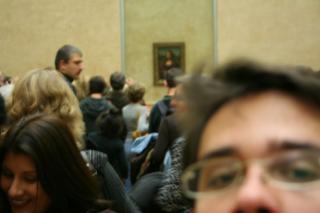 The Lourve – Art museum that is the home of the Mona Lisa and Venus de Milo, along with a bazillion other pieces of art. The Venus de Milo was pretty cool, and the Mona Lisa was very tiny. My favorite section was definitely the Egyptian collection, which featured a mummy, tons of figurines, huge statues, a false door, and lots of random Egyptian stuff. My final semester at Penn, I took a class called "Land of the Pharaohs", and despite that fact that I fell asleep in just about every class, I apparently retained a lot of it because I was running around like a kid in a candy store recognizing the different artifacts. I saw things like that ivory boomerang which was used for warding off spirits, the little scarabs that some pharaoh had carved with stories about his greatness, and Seth, the God of Cabbage. OK, so I'm a little hazy on the details of things I saw, but I am still giving myself a high-five for remembering at least some of that class.
Le Tour Eiffel – The 90 minute wait was worth it. Beautiful views of everything for miles. Unfortunately, it was cloudy, but being 976 feet up in the air was a good tradeoff. The top level was cool, but the best views of the city were on the second level (377 ft) and the first level (187 ft) has a bunch of shops and a post office.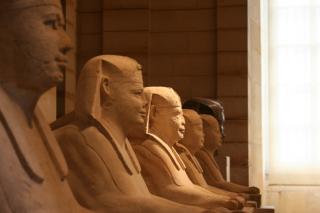 9. (Do something off the beaten path.) I didn't leave the city at all, but I found Rue Mouffetard, a road just north of my hostel which was full of farmer's market stands and had a very festive fair-like atmosphere to it. I also found a bowling alley and resisted the urge to go in. I also happened to have been on a Metro train where there was a group of guys with some horns and a synthesizer playing right on the train. Why doesn't SEPTA have in-flight entertainment like that?
10. (Go somewhere that you're not supposed to be.) It was a relatively non-adventurous weekend, so I didn't feel the need to do number 10.
11. (Eat something that your place is known for.) Ahhh, the food. Très délicieux.
Le Boulanger de Monge – Delicious baguettes in the 13th Arrondissement. I picked a multigrain one with a lot of seeds.
Les Deux Magots – A café in the 6th. Back in the day, it was a hangout for many famous writers and artists, including Hemingway and Picasso. Now, it's an overly priced café with mean waiters where I ordered a Coke and paid 5.70 € for it. That's $8.36 for all of you playing at home.
Je The Me – A little bistro in the 15th. I had an a-maz-ing steak along with sautéed mushrooms and potatoes. To top it off, I had a dish of summer berries and crème.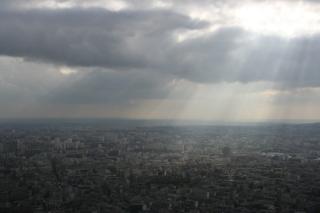 Starcooker – A brunch place in the 4th. For 20 € ($29.30), it was an all-you-can-eat brunch featuring ham, salmon, breads, cheeses, ham, fruits, tuna, croissants, crab, pasta, ham, and various deserts. Did I mention there was ham? It was on everything.
12. (Try not to make enemies with a local resident. If you do, get a good story out of it.) Despite what I've heard other people say about the people in Paris being crazy American haters, everyone I met was very pleasant and nice.
I didn't make any enemies, I ate good food, and finally got to use French in France after eight semesters of studying it. Très bien. More photos in the Gallery.