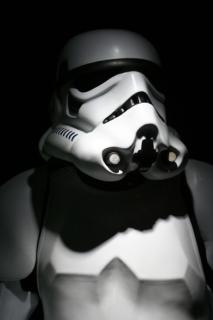 Yesterday was my last Sunday in London. I slept in a bit, took a shower, grabbed my camera and ventured into town.
I ended up down near Big Ben and took a nice stroll along the South side of the Thames. I stumbled upon County Hall which was hosting a Star Wars exhibit that I had seen earlier on my trip about six weeks ago, but it wasn't open yet. Well, it was open yesterday, and I forked over my hard-earned pounds to see what it was all about. Han Solo in carbonite? OK, pretty cool. Life-size podracers? Also pretty cool. All in all, it was good, and if you're a Star Wars fan, you kinda have to go.
Lots o' pictures of Star Wars stuffins in the Gallery.
I also found an exhibition called "Sport in the 21st Century" which had a collection of about 200 sports photographs. It's located right near City Hall and Tower Bridge. My favorites? A picture of two orangutans in a boxing match where one was knocked out cold and the other was triumphantly standing on the turnbuckle with his hand raised in victory. Putting aside the ethical dilemma of monkeys fighting for the enjoyment of humans (it's hard, I understand), the picture was hilarious. My other favorite was a picture of Barry Bonds being booed by a Phillies fan holding a sign with a asterisk on it.  The picture perfectly captures Philadelphia sports fans.