So this past week I had the good fortune of being back in London, and I'm currently typing this as I sit on my plane back to the States. (Note: It took me about a week and a half after I got back to actually post this.)
While a week is hardly sufficient time to have adventures like those of my two-month stay here, I still managed to get around town, eat some really good food, and explore some parts of London that I hadn't been to before.
One thing to note before I go on.  For those of you who lived in Stouffer College House at the University of Pennsylvania, you no doubt have come across the maroon Stouffer pens during your stay here.  Let me tell you, they do NOT travel well in high altitudes.  I had multiple pens explode on me while airborne.
Trip details and some pictures after the jump.
Sights:
For those from the Philadelphia area, this is the city's equivalent to the Franklin Institute.  And dare I say it was better?  I'm not knocking the Franklin Institute by any means. But I am saying that the Science Museum had an overall greater collection of objects.  I think the Franklin Institute does a better job of interactivity with the exhibits, while the Science Museum has a more robust variety in the exhibits.
Personal highlights for me included Launchpad, a hall with physics exhibits, and a huge hall which mapped out the history of both mathematics and computing.  On the mathematics side, they had a large case of specially designed Klein bottles, that when sliced correctly, produce Möbius strips.  On the computing side, they had huge computers from the 1950's, one of which was a random number generator which the British government used to assist with treasury bonds.  There was no interest paid on the bonds, however the computer would randomly pick a number, and if you were lucky enough to have you "Premium bond" number picked, you were awarded a cash prize.  They even gave it a name, ERNIE, and it developed a huge fan base where people would send in cards and gifts to the machine to ask that the computer picked their bond number next.  It sounds like a crazy version of a lottery to me.
Didn't say here for very long because it was very crowded, but did see a huge dinosaur skeleton.
Food:
Wagamamas
A noodle bar is the best way I can describe this place.  You go in, you sit at really long bench tables, and the waiter will come over with a hand held gizmo to take your order.  You pick a number off the menu, they put it in their gizmo and write the number you picked right on your placemat.  I ordered a pan-fried panko-crusted chicken breast, slicked up and served under a bed of rice and a mild curry.  A-maze-ing.  The chicken was very juicy and had a slight crunch because of the panko, and while the sauce was milder than I would of liked, overall a tasty dish.
Ben's Cookies
I heard about this place from a friend of a friend ages ago before I went to London the first time, but never had a chance to go.  This time, however, I stumbled upon their South Kensington location, and they are indeed fantastic cookies.  The are about the circumference of a normal cookie, however they are much thicker.  The consistency was very cakey but very layered.  Interspersed between the layers were the fillings.  I had three cookies: peanut butter, white chocolate, and milk chocolate.  The chocolate pieces were very flat and thin, and were between the layers of the cookie, making for a very tasty treat.  If you happen to find yourself in London, I highly recommend it.
Sunday Pub Lunch
Sunday Lunch is a big thing in London, so on the Sunday I was there I went to a pub near my hotel and ordered the Sunday Lunch Chicken.  It was an entire half of a chicken, served with two different types of potatoes, along with peas, carrots, and two crusty bread shells to make your own shepard's pie if you wish.  Now, given that I'm adverse to gravy, cooked peas, and cooked carrots, I was left with chicken, potatoes, and crusty bread.  It was still very delicious.  The chicken was falling off the bone and was very moist and juicy throughout.  I am not generally a fan of dark meat but I ate the entire half a chicken very readily.
Indian Restaurant #1
Clearly a half a chicken wasn't enough for me, so that same evening I ate at an Indian restaurant right in the same complex later that night.  For the life of me, I can't remember the name of the place, but it's right near the North Ealing tube station.  It was on the fancier side, with nice linens and place settings and the like, and the food was superb.  I have decided that whenever I go to an Indian restaurant, I am going to get chicken tikka masala.  For the uninformed, chicken tikka masala is standard fare at American-Indian and British-Indian restaurants.  The basic ingredients are chicken breast chunks slow-cooked in a tomato and yogurt based sauce.  However, according to our good friends at the BBC, a survey was done of 48 chicken tikka masala recipes, and the only common ingredient in all of them was chicken.  The chicken tikka masala here was very good, and I might have to designate it as my favorite.  The reason that this particular recipe was so good was that the sauce was of a slightly sweeter nature than normal.  I'm not sure what made it sweeter, but my guess would be that some honey was put into the recipe.  Overall, very delicious.
Gourmet Burger Kitchen
This place is actually an import from New Zealand, and was the closest I was getting to an American burger.  I order a burger with cheese and "streaky bacon".  From what I understand, what the Brits call bacon is closer to pork roll, and what they call streaky bacon is closer to American bacon.  Well, what I got on my burger was still pretty close to pork roll in my opinion.  This is just a personal thing, but there was too much fat going on for me to enjoy the bacon, so I took it off.  As for the burger itself, generally very tasty, but there were too many bits of grizzle for my liking.  However, this is the only place in London that has asked me how I want my burger cooked.  The fries were a very thick cut, but were golden in color, cooked well throughout, and were nice and fluffy inside and had a very clean taste to them.
Tandoori Villa
Tandoori Villa was visited on my last night in town.  It's near the South Ealing Tube stop.  The restaurant was opened recently, and if I understood the time line right, the owners of the place last year converted their living room into this restaurant.  I of course got chicken tikka masala, but was fortunate to have gone with eight other people, and tried a variety of different meat and curry mixtures.  I was also introduced to peshawari nan, which is a nan that has a sweeter taste and had almonds baked in.  It tasted like an Auntie Anne's almond pretzel.  Notice my tendency to enjoy sweet things?
Well, that about sums up the trip in a nutshell.  A very nice culinary adventure indeed.
Here's a cool picture from the Science Museum.  It's a lights and LED exhibit that spanned three stories.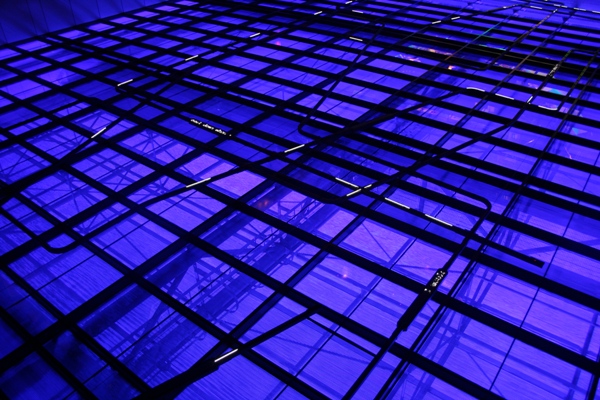 And here's a Klein bottle.  Is it sad that I recognized this only because I've seen it on Futurama?