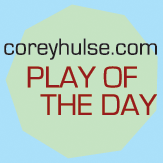 When I was in London, I picked up an "Aurora Color Changing Alarm Clock".  It changes colors every hour, so I decided to take a picture every hour to put together a collage of the colors because I thought it would look cool, and it would help remember what colors would go to each hour.
However, I'm disappointed to find that 7 and 8 are close in color, as are 9 and 10, and 11 and 12.  It's like they started programming the clock with a variety of different colors for 1 through 6, and after that they got lazy and said, "eh, forget it, let's make the rest of 'em all a shade of blue".
Below is the collage.