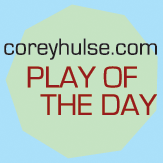 My roommate and I are currently (and ever so slowly) working on a fun web project involving food.  At the current rate of progress, look for it to go live somewhere in the 22nd century.
However, Sunday was an extravaganza of awesome in my kitchen.  I'll be documenting most of it when our new website goes live, but here's a sneak peak.
There was one thing that came out of our cooking yesterday which was the definition of mind-blowing amazingness, and that was baconated chocolate.  That's right, bacon topped with chocolate.  And sprinkles.