I'm introducing yet another serving of awesome on my site called "This May Only Be Interesting To I", or TMOBITI for short.  Yes, it's not grammatically correct, but TMOBITI is much better than TMOBITM ("This May Only Be Interesting To Me").  Maybe I'll come up with a snazzy logo soon.
Now, for your first ever TMOBITI:
As you may or may not know, there is a new football stadium being built in the Meadowlands complex which is to replace Giants Stadium.
Since the Jets have always had a minority complex about playing in a stadium that was built for the other team, measures are being taken which will make both teams seem like their new stadium is home.  This also is extended so that if they really want to, other teams that play here at home (For example, if Vince McMahon ever brings back the XFL).
The outside of the stadium will be aluminum louvers, and there will be interior lighting which can be switched depending on whether the Giants or Jets are the home team.  The design was inspired by a soccer stadium in Germany which has two home teams and the stadium lighting changes colors to red for Bayern Munich and blue for 1860 Munich.
Here's a picture which shows the two colors.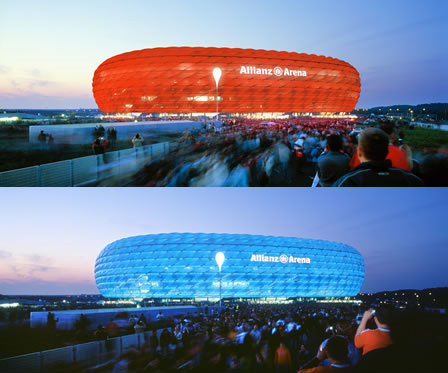 I haven't found any images yet which show the stadium with the new lighting scheme, so I've put together some (badly) photoshopped pictures on what I think it should look like.
Meadowlands Stadium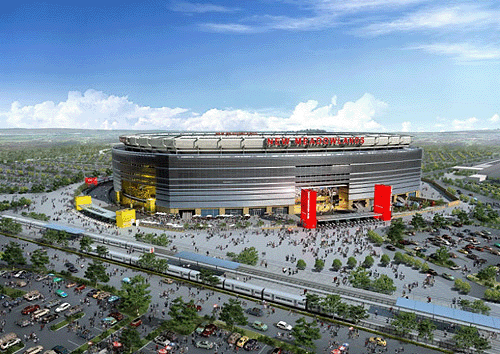 New York Giants Home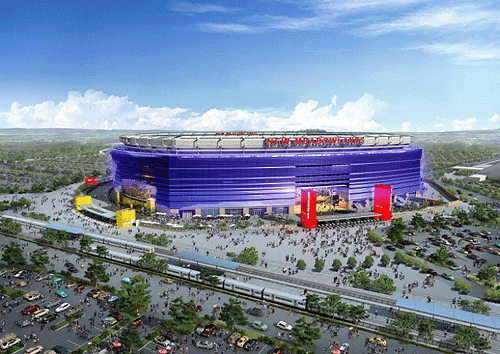 New York Jets Home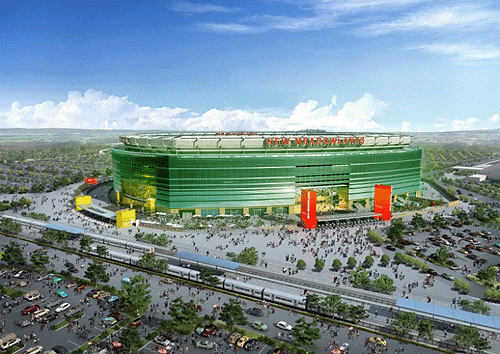 No word on if they're going to add other colors besides blue and green, but you've got to think that if they add a red in there, then the color possibilities go through the roof.