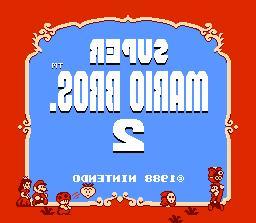 So on Offworld, a gaming blog I read, they've started this thing called 'backgames', which is to describe a game backwards.
http://www.offworld.com/2009/02/lets-start-a-new-meme-backgame.html
Here's an example:
Pacman: Pacman fills mazes with dots, pausing only to regurgitate fruit & ghosts.
I think this is awesome to the max.  I've come up with some of my own, and I think everyone should play along.
R.C. Pro Am: Fastest car in the world drives backwards, spitting out letters that spell 'ODNETNIN' until it is really, really slow.
Super Mario 2: Mario falls asleep, runs through deserts and grassy plains planting vegetables until floating up to the heavens.
Tiger Woods Golf: Ball emerges from hole and launches itself to player's club until reaching the tee box. Repeat 18 times.
Mario Party: Players move backwards on a gameboard in a charitable quest to give away all their stars and coins until they have none.
Star Wars Battlefront 2: Stormtrooper resurrects Rebels by sucking in blastershots and bombs until there are 150 of them.
Bust-A-Move: Same-colored bubble clusters appear and dinosaur removes them until a nice pattern of random-colored ones are left.
If you post on Twitter, add "#backgames" to each of them because when you search "#backgames" on Twitter you'll get all the posts that other people have backgamed about.
http://search.twitter.com/search?q=%23backgames
What other ones can we come up with?  If you have a twitter, you should twitter them too.  You have to limit it to 140 characters.
Here are some good ones from my friends:
Rhyno:
Tetris: The parts of a horribly constructed building start floating away to the heavens while rotating in a random way.
Donkey Kong (arcade): Donkey Kong brings Mario a princess. The sight of her scares him though, so Mario tries to flee down a series of ladders.
Mortal Kombat: One player puts back together the other player's body and they fight it out until they feel perfectly healthy at the end.
NBA Jam: The basketball hoop throws a flaming ball repeatedly to Dan Majerle.
NHL '94: Basically a giant game of keepaway with nets that spit out pucks.  Also, the goalies are nice enough to help people off the ice.
John Madden Football: Receiver's revenge!  Everyone throws balls at the quarterback.  Defensive backs thoughtfully help people up and get out of the way.
Super Smash Brothers: Looks exactly the same, except people come flying in from the sides, jump kick from really far away, and ascend to heaven on glowing platforms.
Minesweeper: OCD players fix a diverse mix of tiles until only smooth gray ones remain.
Solitaire: 4 holes suck up an entire deck worth of cards, then distribute them in an odd pattern.
Marble Madness: Looks exactly the same.
Ocarina of Time: Old warrior discovers fountain of youth, abandons princess to evil monster as he returns to childhood by giving away all his worldly possessions (very Buddhist).
And finally, PiFry take a jab at my card-playing skills:
Poker: Corey accumulates money at a decent rate over a period of several hours.
Drew, who apparently has expanded this to non-video games:
Monopoly: The wealthiest players are apparently hit with antitrust laws, give everything away until socialism reigns.
Jeopardy: Players ask Alex Trebek extremely obvious questions, which he answers in the most difficult way possible.
Baseball: Random fan makes herculean 400 ft throw to strongman, who uses a stick to deflect it to a man about 60 ft away.
Pong: exactly the same as regular Pong.
Fun Fun!  Come up with some more!
UPDATE: Sweet!  The guy who started backgames left a comment and a link to his site, where he's compiling a "Best of".  Find it here: http://justonemoregame.wordpress.com/2009/02/24/backgames-videogame-plots-in-reverse/