Each day I am becoming more and more of an old man, because I find that if I miss Jeopardy and Wheel of Fortune, I am usually very grumpy for about three hours afterwards.  This is one of my primary reasons for not getting a job in investment banking out of college because I know I would never again see my beloved shows.
However, tonight I made it home with plenty of time to watch both, and I crushed Final Jeopardy tonight.
Tonight's Final Jeopardy Category: "Colleges and Universities"
Answer: "This two word term for a famous group of colleges 1st appeared in an AP story that ran in the Providence Journal in 1935."
Question: "What is Ivy League?"
I knew this because I may or may not have read the wiki page on said answer many a time.  I wonder how many questions Jeopardy pulls off of Wikipedia?
Only one guy got it right.  The other two guessed "Seven Sisters".  FAIL.
Screenshot.  And by "Screenshot" I mean "I took a picture of my TV":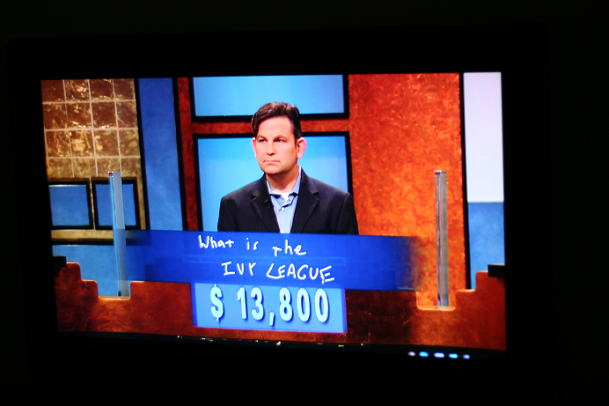 Also, a guy from Temple won $100,000 on Wheel of Fortune tonight.  Wooooo Philly!