This post was originally published on Awesomeopolis.com on April 21, 2009.
---

Experimental Cooking Tuesdays a is a regular feature where I attempt to cook and create something edible. I'm not a trained chef at all, and I hope that by sharing my experiences with you, that everyone can learn a little more about cooking.
Experiment #2: Congo Jack's Chicken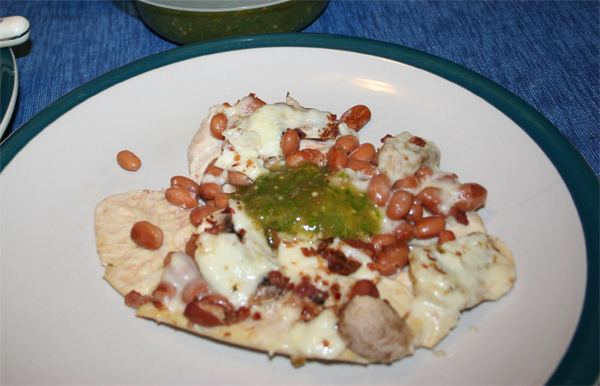 Congo Jack: Yes. And I have a message for you from Colonel Mitumbay! He says this … [He pulls out a spear.] … is from Congo Jack.
I don't know why I named this dish after an obscure scene in an episode of Futurama, but I did, so you'll have to deal with it. Anyway, this dish is what he would have made if he made a chicken dish.
Ingredients:
1 lb chicken tenderloins
Handful of mushrooms
Can of pinto beans
Jalapeno jack cheese
Real bacon bits
A lime
Salsa of your choosing
Tools:
Gallon-size Ziplock bag
Casserole dish
Cutting board
Cutting knives
Meat tenderizer
Instructions:

Pre-heat the oven to 425F.
Put raw chicken in the Ziplock, one piece at a time. Take your meat mallet and hammer the crap out of the chicken. Why should you hammer the chicken? Because it flattens the pieces which allows for quicker and more even cooking. In addition, it breaks down the connective tissues in the meat, making it more tender. When I made this, I didn't have a meat mallet handy, so I used this iron thingy instead and it worked out well. Recommended music to hammer to: M.C. Hammer. The goal is to get each piece anywhere from 1/8″ to 1/4″ thick.
Place your flattened chicken into the casserole dish. Make sure to spread the chicken out evenly so that each piece is flat.
Open the can of beans and drain out any excess liquids from the can. Dump the beans and spread them out so they're pretty evenly distributed over the chicken.
Slice up the mushrooms, and put them on top of the beans.
Cut the cheese into thin slices (or grate it if you're feeling sassy). Spread the cheese on the top.
Cut the lime and squeeze the contents over the dish. If you want more even distribution of lime juice, squeeze it into a cup first, then pour.
Lastly, every dish can be made better with bacon, so sprinkle some bacon bits over your creation.
Throw it in the oven, and set the timer for 15 minutes. And voila! Dinner.
After taking it out, garnish your chicken with your favorite salsa for a little extra kick.
Lessons Learned:
Breaking down the chicken by hammering it really makes it very tender when baking. Of course, you don't have to do this and can just use regular chicken breasts but you should allow an extra five minutes to cook the chicken all the way through.
Pictures:
A piece of chicken compared to a piece of chicken of the same size that was flattened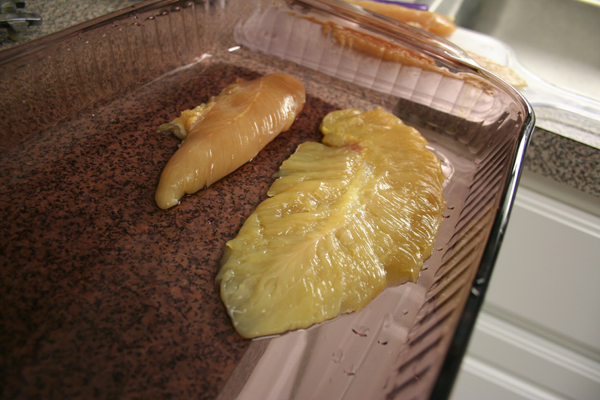 Flattening the chicken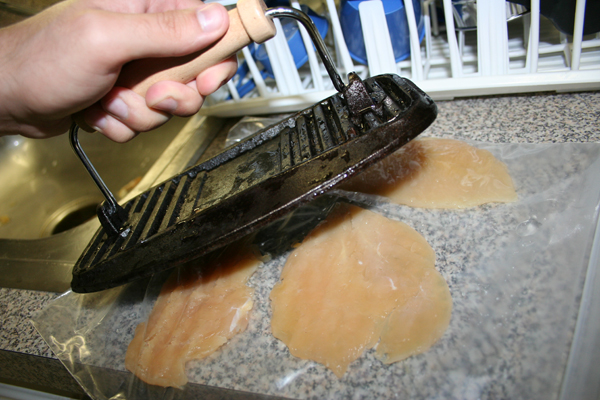 Right after putting it in the oven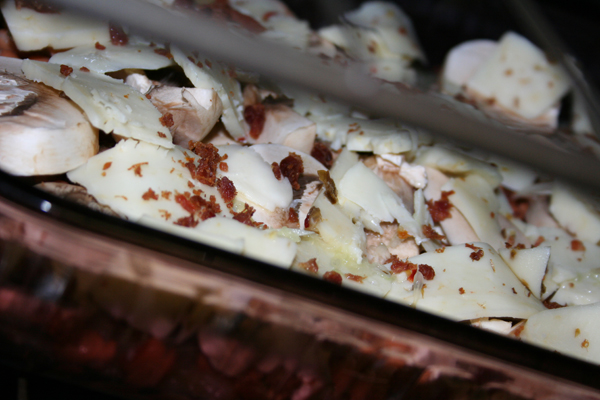 Congo Jack's Chicken. Colonel Mitumbay would be proud.