Long time, no post.
Back in November of 2009, I decided that I needed some kind of fitness goal. I was involved in intramurals and used to walk a lot around campus back in college, but since that point my daily exercise now normally consists of video games.
I decided that the Broad Street Run was the way to go. It's a 10-mile race in Philadelphia that's been held for more than 30 years, and the course is a simple straight line down Broad Street, starting up near Onely Street, a slight curve around City Hall, and all the way down until you hit the Naval Yard.
I started training post-Thanksgiving, giving myself about five months to go from my couch to a ten mile mark. So, how do you get from zero miles to ten miles? I asked Google.
I found a site with two good pages. One talked about how to go from nothing to a 5K (3.1m) in about 2 months, and then the second page talked about going from a 5K to 10 miles. Perfect! I mapped out my weekly plan for when and how much I needed to run each week, and set out to work.
Unfortunately, I didn't stick with the plan. As a busy man who is always parasailing with movie stars, I would sometimes push out or completely skip workouts. Here's a chart comparing the max mileage I should have been doing against an approximation of what I actually did.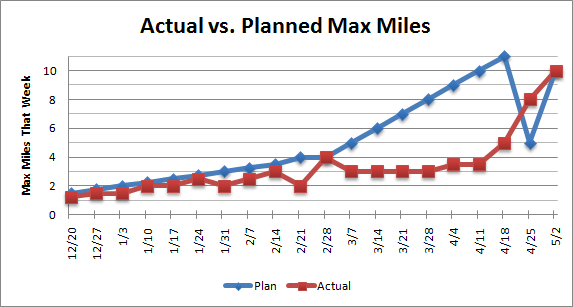 I haven't been keeping on track with the pace I wanted, but what I have noticed is that I can go much longer distances at a higher pace without stopping or slowing down. When I started, I could hardly go a 1/2 mile without slowing down to a walk. Now, I can get through 2 miles at a high pace when I run outside, and can easily get through a 5K on a treadmill without slowing down.
In the meantime, I also found a running group that I joined, called KOP Runners.  It's a small group of relatively new people to running, and it was a great fit for my beginner status.
Skip ahead to April. I've been happily chugging along with training, but haven't done any races yet. I set out a schedule to quickly ramp up distances in the final month leading up to the Broad Street Run.
04-11-10: Penn Colleges Against Cancer 5K – 38:03 (12:15 min/mi)
04-18-10: Valley Forge Revolutionary Run 5-Mile – 54:14 (10:51 min/mi)
04-26-10: Miami Beach Boardwalk Run 8-Mile (Self-Timed) – 1:35 (11:57 min/mi)
05-02-10: Broad Street Run 10-Mile – ???
I've also found a great iPhone Application called RunKeeper, which uses the GPS in your phone to ping your location, and give you real-time feedback on speed and mileage.  It also has LiveTracking of events, so the goal is to use it during the Broad Street Run to let people know where I am at the race (and where to find me if I collapse during the race).
Bookmark this link and follow my progress on race day! http://runkeeper.com/user/coreyhulse/activities
I'm hoping to finish the race in 2:10, giving me a 13:00 min/mi pace.  Is it fast? No, of course not. But it will be an accomplishment for someone who's idea of exercise is watching sports on TV.
Update: I've completed the Broad Street Run!  2:01:52 (12:11 mi/min), beating my anticipated time by about eight minutes.  When I got to the final mile, I gave it a push to finish in under two hours, but I new I had to pace myself properly.  However, this gives me motivation to come back next year and try to get it under two hours.
So what's next?  I'm debating doing a half-marathon, and there's the Rock n' Roll Half-Marathon in September.  Hmmmm… Stay tuned, sports fans.