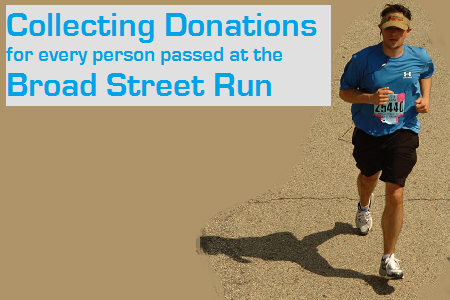 I'm running for charity at this year's Broad Street Run, a ten-mile race in Philadelphia. I'm going to start at the back of the pack, and collect donations for every person I pass. This way, it incentivizes me to run faster, because every person I pass means more goes towards charity.
The charities I am supporting are the American Cancer Society, the Lupus Foundation of America, Philabundance, and the SPCA.
I've set up a sub-site website where I'm accepting pledges for donations.  If you pledge a per-person amount, after the race I'll tell you how many people I passed and how much your donation will be.  If you pledge a flat donation, you'll have the opportunity to donate now.
http://www.coreyhulse.com/run/
Thanks in advance for your support!