Welcome new visitors!
You may have stumbled here because of my "ad" on the CampCampPhilly website.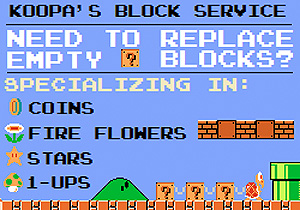 Sorry to disappoint, but there is no block replacement service here.  Try your "Reset" button and that should do the trick.
However, my name is Corey and this is my website.  Originally from Jackson, NJ, I went to school in Philly and now live in King of Prussia, PA, and I've recently starting writing for Geekadelphia.
I don't post on my personal site nearly enough, however I post on Twitter with much more frequency.
Originally I created this site to track my adventures when I traveled in Europe in 2007, but since that point it's expanded into musings on photography, food, sports, video games, and culture.  Sometimes I also rant about random things.  You can read about me in the About page.
Other things you might find interesting:
I did a photo-a-day photography project called "Project 365" in 2009.
I dislike running, but will be doing the Broad Street Run for the second year in a row.
I just got engaged to my beautiful fiancée Kristine.
My high score in bowling is 279.
I enjoy bullet-pointed lists.
Thanks for stopping by!