Sports + Graph = SportsGraph!
"How many minutes has each team led in the Stanley Cup?" my friend Drew wondered the other night as we were watching the tail end of Game 5.
Using the Sparkline feature in Excel 2010, I have looked at the minute-by-minute scores and the results are interesting.
Despite the series being all square now at 3-3, Boston is dominating minutes lead 164 to 36 (45% to 10%).
I'll post an updated graph after Game 7…
Update: Here's the chart with Game 7 updated: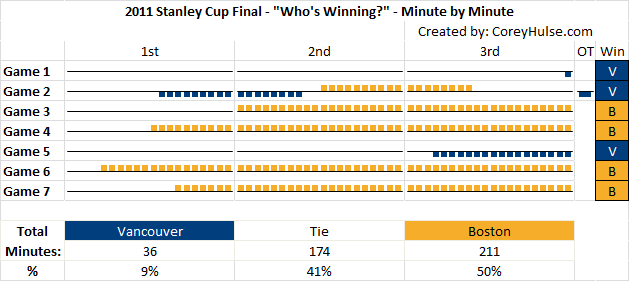 Boston lead 50% of the minutes compared to Vancouver which only lead 9%.
It would be interesting to see how this compares to other series that have gone on to Game 7's.
Update: Here is the 1994 Vancouver vs. New York Rangers series.