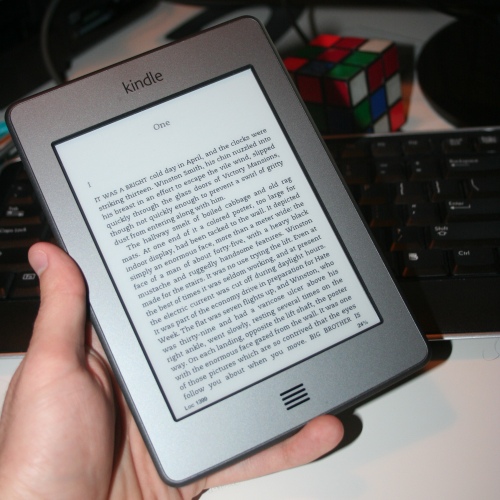 I won a free Kindle, and I just wanted to say thank you.
Yes, this sounds like one of these spammy posts where you see banner ads saying "CLICK HERE FOR FREE GIFT CARDZ*" with the fine print indicating you need to take a three-hour survey, get twenty other people to sign up too, sell your first born child and give your Social Security number to a Nigerian prince.
This is none of that.  I won a Kindle by playing a game and guessing correctly at random once-a-weekday pop culture questions.  I also got help from a few of my friends, who I also want to thank.
First, about the game.  It's called Prediction Monster.  There's one question every weekday, and It's like ESPN's Streak For The Cash but with Pop Culture, Politics, Sports, etc.
There's a daily question, and if you get it right you get one point.  If you have currently have the longest winning streak, you win a $5 Amazon gift card.  If there's a tie for the top, the $5 rolls over to the next day and the next until you have a single winner.
Examples of recent questions:
How many Grammy nods will Adele get?
How many goals will Crosby score in his first game back?
How many user reviews will there be of the Amazon Kindle Fire by Midnight?
What will Groupon's stock close at on the first day on the exchange?
There are also bonus questions they post on Facebook and Twitter, and if you get those right you get a bonus point.  If you get them wrong there is no penalty against your streak.
They have a weekly $5 prize as well to the person who got the most points in a given week which is reset at the start of each week.
Incentives should tell me that I want less people playing because if there are more people, the odds decrease of me winning.  However, they've added a referral program that if you include my name in the "Referred By" section on the registration, then if you win $5 then I also win $5.  So now, I'm telling all of you.
So far I've won $165.  Insane, right?  Some wins were thanks to my good guessing, and the rest came thanks to the referral program.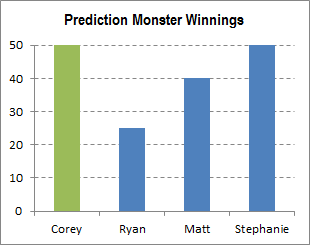 So I'd like to thank my friends Matt, Ryan, and Stephanie for their pop-culture prowess.
And, it doesn't hurt to do some geeky analysis while we're at it.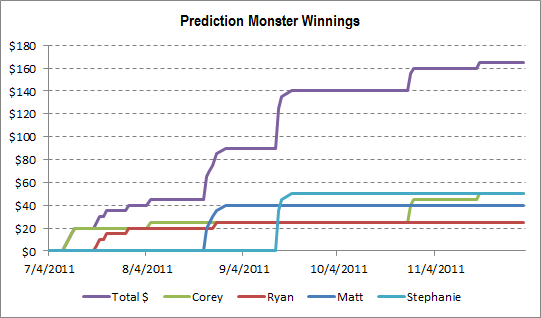 This chart shows total winnings and contributions by me and my friends over time.  You'll notice how the individual bumps contribute to the total winnings.  I won first, followed by some wins by Ryan in late July, followed by a huge win by Matt in August, followed by an even bigger win by Stephanie in September.  I followed up in late October with a new streak, and currently sit at the $165 total.  You'll notice that it's been a bit of a plateau the past two months, so it looks like I need to try harder to win more.
Thinking about that last point, I plotted out my winnings vs. the possible winnings.  Each weekday there's $5 up for grabs, and a $5 weekly prize, totaling $30 a week.  There's also another $30 each week given out to the referrers (this assumes that each day the winner also has a referrer, which isn't exactly true but without going through all my e-mails it's the best I can guesstimate).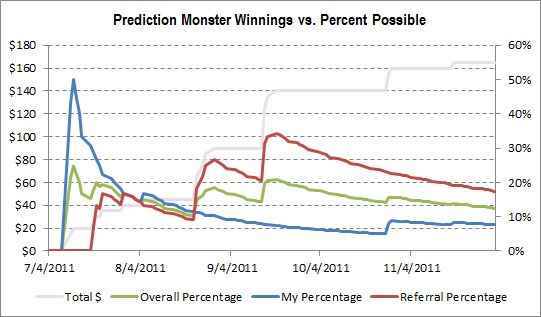 The light purple line is the total dollars won.  The green line shows overall percentage of my winnings vs. total given out.  I broke this into two categories, where the blue line represents where MY question answering earned me the prizes, and the red line is the referral percentage for when my friends did the work for me.
So, while I crushed it in the beginning in terms of how often I was winning, you'll see that I haven't been doing as well lately.  What I have benefited from in the long-run was my friends doing well which contributed to my winnings.  Each time one of them won, you see the bump in the red line.  Overall, I'm very happy to say that I've won about 12% of the time, considering how many people seem to be playing on the site.
My goal from the beginning was to win a Kindle.  When Amazon announced the new Kindle Touches, I jumped on the opportunity to get one.  I could have just gotten the wi-fi version for free, but I figured that I would pay the few extra dollars myself and I get the 3G version instead.  So TECHNICALLY I didn't get an entirely free Kindle, but I could have if I wanted to get a cheaper model.
Now the next thing I need to figure out is how to hack my Kindle to get custom screensavers on it…
Thank you once again to my friends and to Prediction Monster.  Not only did I win my way to a Kindle, but the site and the game have been genuinely entertaining and I look forward to continuing to try to win.  Oh, and if you're new to the game and sign up, make sure to put me as a referrer.  Those ebooks won't buy themselves, you know.