I am going to be starting a Reverse Fantasy Football League, henceforth known as the Bizzaro Leauge.
The goal is to incentivize picking players with poor performance and rewarding points for actions such as incomplete passes, interceptions, fumbles, and missed field goals.
Guiding thoughts:
In order to fit within ESPN's scoring system, the goal is to still get as many points as possible. You still want to win every week. I have implemented a custom scoring system which awards positive points for bad events. For example, for every interception thrown, a quarterback gains five points.
There will be no negative points awarded for good events. The reason for this is that for a given week, a QB could go on a tear and score a bunch of touchdowns, and if you assign negative points for those "good" actions, your QB might have a negative value for the week. You would have been better off playing a benchwarmer that week because you'd have a zero instead of negative points. I want to shy away from that, so there will be no negative points given.
Below you'll find Version 1.0 of the scoring table. Click to view!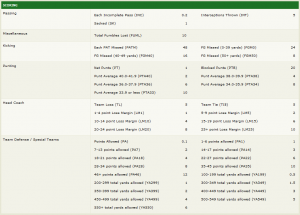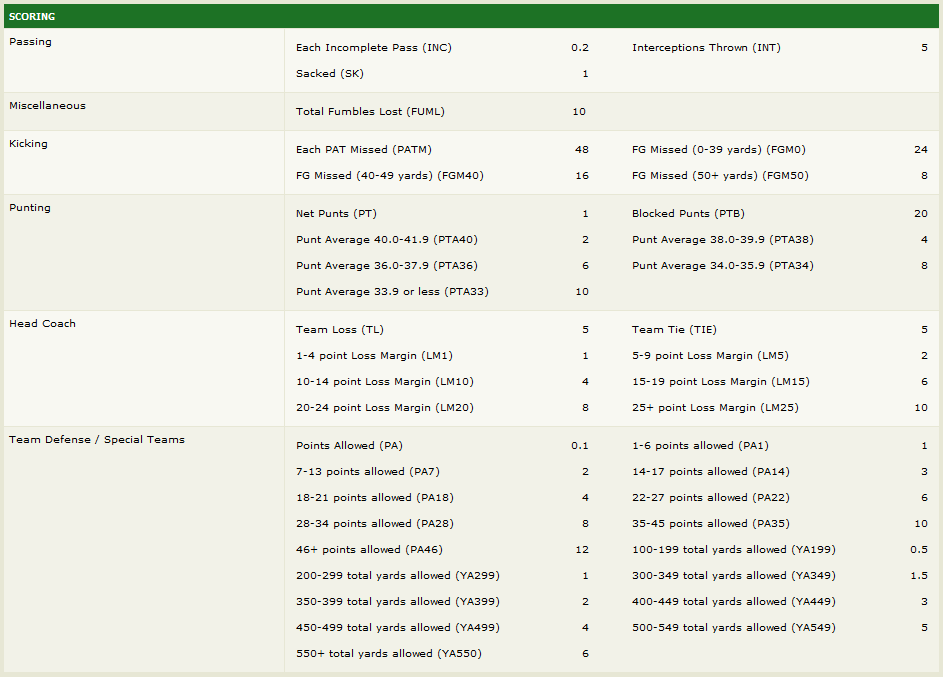 I'm up for discussion about the points system!
And here's the setup of the positions:
Quarterback (1)
Kicker (1)
Punter (1)
Defense (1)
Head Coach (1)
Flex [Running Back, Wide Receiver, Tight End] (6)
Bench (7)
Some thoughts on each position:
Quarterbacks – These are the bread and butter of the league. There are enough settings here to really put points behind negative events. Incomplete passes are .2 points, each sack is 1 points, and interceptions are 5 points. Add that with the 10 points for fumbles that apply to all players, and it makes for the highest-scoring position.
Kickers – There's a slew of opportunities to gain points for kickers. Essentially, if a kicker misses, you get points. Far-away missed kicks are more common, hence less points.  Closer missed kicks are rewarded as such. And if a kicker misses a PAT, it's going to rain points all over your team. However, is 48 points for a missed kick too much?  I argue no.  It happens so rarely that when it does, you should be rewarded.
Punters – The only truly negative event for punters are blocked punts, and you really want to award points if that happens. You can also receive points every time the punter punts, so a poor offense means more points for the punter. From a skill perspective, there's a bonus based on punting average. The worse it is, the more points you get.
Defenses – Defenses will gain .1 points for every actual point they give up. It's not very much, but there are "bonus" fantasy points that can be gained by giving up more actual points. There are additional "bonus" fantasy points to be won based on the number of yards given up. The thought is, if you give up yards and you give up points, you'll be rewarded with more fantasy points.
Head Coach – Did you know this was a position you could draft? Basically, the head coach is tied to the team, and you can gain or lose points based on how the team does. This made it an easy choice to include, as it was easy to come up with a scheme to award points. This is also slightly different than a defense. Defenses are only ranked on what they give up. However, head coaches are based on MARGIN of loss. Essentially, you're banking on a team to lose, and you get bonus points for how badly they lose. Also, you get the same base points if your head coach ties as you do in a loss. Because ties are terrible and deserve to be ridiculed.
Flex – Running Backs, Wide Receivers, Tight Ends – The only thing in ESPN that can affect these position players are fumbles. The max any individual player fumbled last year was three times. If I counted correctly, there were 156 fumbles last season by these three types of players, meaning less than 10 fumbles per week across the whole league! As a result, there are six spots that are basically wild-card spots each week in the hopes that someone that you pick fumbles, at which points you get a nice bonus of 10 points.
Are you interested in playing? I'm looking for anywhere from 4 to 16 teams. Drop me a line, and I'll send you an invite!