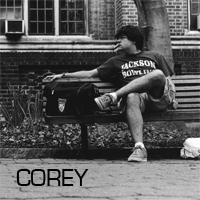 Corey was born on December 31, 1984 in Lakewood, NJ, where he continued to live until he was 11. At that point, he moved to Jackson, NJ and lived there until he graduated from Jackson Memorial High School in 2003. He attended college at the University of Pennsylvania, where he graduated with a Bachelor of Science in Economics from the Wharton School in 2007. He lived in Philadelphia until 2009, lived in King of Prussia, PA until 2011, and now lives in Schwenksville, PA with his wife and dog.  He currently works as a business intelligence consultant for Thorogood Associates. He wrote this in the third person but doesn't remember why.
Current Projects:
personal website
places I've been
graphgraph
Programming Languages:
CSS
HTML
MDX
PHP
QBASIC
SQL
T-SQL
VBA
Technology Experience:
Adobe Illustrator
Adobe Photoshop
Hadoop
Microsoft SQL Server Analysis Services (SSAS)
Microsoft SQL Server Database Engine
Microsoft SQL Server Integration Services (SSIS)
Microsoft SQL Server Reporting Services (SSRS)
Microsoft Access
Microsoft Excel
Microsoft PowerPivot
MySQL
Roambi
Qlik Sense
QlikView
SAP Business Objects
Tableau
Teradata
Old Web Projects:
broad street run
project 365
awesomeopolis (website retired)
geekspirations (website retired)
relay for life at penn
34th street magazine
new student orientation at penn (archives: 2004, 2005, 2006, 2007)
penn reading project (archives: 2004, 2005, 2006, 2007)
stouffer college house
residential advisory board at penn
college house cup
On Other Websites:
facebook
twitter
linkedin
tumblr
google +
wikipedia
youtube
geohashing
Work History:
Business Intelligence Consultant, Thorogood Associates, Princeton, NJ 2007-Present
New Student Orientation Coordinator, University of Pennsylvania, Philadelphia, PA 2004-2007
Stouffer College House Communications Manager, University of Pennsylvania, Philadelphia, PA 2004-2007
Admissions Supervisor, Six Flags Great Adventure, Jackson, NJ 2000-2004
Publications I Used to Be Involved With:
Geekadelphia (writer)
34th Street Magazine (film editor/writer)
Stouffer Tribune (editor/writer)
Things I Used to Do:
At Penn:
Residental Advisory Board
34th Street Magazine
Stouffer Tribune
Class of 2007 Exec Board
At Jackson Memorial:
Class of 2003 Exec Board
Student Council
Boys Bowling Team
Boys Tennis Team
Hobbies
Photography, Cooking, Running, Video Games, Golf
Contact
cshulse@gmail.com
Current Banner Photo
"Stars" taken March 2013 near Kremmling, Colorado
WordPress Theme
"Two Column Clean-Cut", which is a modified verision of "cutline-3-column-right-11" coded by Chris Pearson.