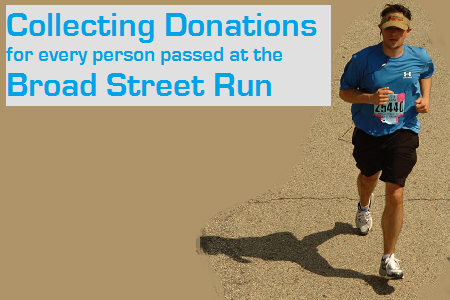 Update: May 1, 2011
Today was the big race! First, I just wanted to say thank you for everyone's support. Today the conditions were great and I finished far faster than I expected, at 1:38:48. I finished #13,940 out of 25,206, meaning I was faster than 11,266 people. Unfortunately, I also hurt my ankle pretty badly during the race, so I think I'm going to lay off the running for now...
Again, thanks to everyone for their support! The site is still open to collect donations, as I will be collecting donations through the end of May.
--Corey
---
My name is Corey, and I'm running for charity at this year's Broad Street Run, a ten mile race in Philadelphia. I'm going to start at the back of the pack, and collect donations for every person I pass.

This way, it incentivizes me to run faster, because every person I pass means more goes towards charity. Inspired by what former pro-football player Amani Toomer did during the New York City Marathon, I'd like to try the same thing.

Now, I'm not a very fast runner, but my goal is to pass 3,000 people during the race. Even if you pledge just a penny a person, if I make my goal that means $30 goes towards the charities.

Read about the charities I am supporting.

Click to make a pledge to donate.

See my timecard from last year's run and stats on this year's training.
Visit my main site to find out more and read some blog posts about my experiences with Broad Street.
Thanks for your support!
--Corey
Haiku Updates
2011-05-01
Ran the race today!
Hurt my ankle pretty bad.
Do you have some ice?

2011-04-30
Race is tomorrow.
Need to keep carbo-loading.
Can I have more bread?

2011-04-12
Seventy-five miles
Is how much I've run so far.
Refrigerator.

2011-03-18
Bacon cheeseburgers.
Followed by a three mile run.
Is the wrong order.

2011-03-15
The site is now live.
Please donate to good causes.
Click here to donate.

2011-03-14
Pi Day is today!
Just finished a five mile run.
Wishing I had pie.

2011-03-04
In Colorado.
Air density decreases.
Run time increases.

2011-02-18
Second outdoor run.
It's finally sunny in
Philadelphia.

2011-02-08
Calories burned off
Quickly replaced with bucket
Of buffalo wings.

2011-01-23
My first outdoor run.
Why does it have to be cold?
My face is frozen.

2011-01-20
It's time again for
The 10-mile long Broad Street Run.
Better start running.